Home » Westside Childrens Asthma Partnership
Westside Childrens Asthma Partnership
Asthma is the most common chronic condition of childhood, affecting nearly 10 million children in the United States.  In some predominately minority Chicago communities, as many as 1 in 4 children have asthma as revealed by the Sinai Improving Community Health Survey.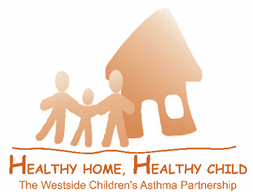 Healthy Home, Healthy Child: The Westside Children's Asthma Partnership [HHHC] began in September 2008 with funding from the Centers for Disease Control and Prevention [CDC]. HHHC focuses exclusively on children with poorly controlled asthma living on the west side of Chicago.
Once families are enrolled, Community Health Educators [CHEs] deliver asthma education in the home environment tailored to the specific needs of the individual families. The home visits focus on both improving asthma management by educating caregivers and children to better manage asthma medically, while also addressing the disproportionate presence of asthma triggers in the home environment. CHEs work with families to set achievable goals that will move them towards optimal health. The program objective is to significantly impact asthma-related measures of morbidity, urgent health resource utilization and quality of life. The CHEs make six home visits over the course of twelve months.
Project partners include the Chicago Asthma Consortium [CAC], Health & Disability Advocates [HDA], the Metropolitan Tenant's Organization [MTO], and the Sinai Community Institute [SCI]. MTO provides support in training CHEs to conduct a thorough environmental assessment and to work with families in modifying the home environment to reduce the presence of asthma triggers. An MTO Housing Advocate works directly with clients who have more complex environmental situations. Attorneys working for HDA provide pro bono assistance in resolving housing and other issues requiring legal intervention. A Community Advisory Board comprised of community leaders, representatives, and residents has been assembled by SCI and CAC to inform the project and its approach.
Enrollment began in February of 2009 and will continue through June 30, 2010.  HHHC hopes to help 350 families living on Chicago's Westside better manage their child's asthma by improving medical management while also reducing the presence of triggers in the home.
If you are a parent of a child with asthma residing in one of the following zip codes: 60608, 60612, 60623, 60624, 60639, 60644, or 60651, you may be eligible. For more information or to refer a child for enrollment, please contact Loreen Targos at loreen@tenants-rights.org or 773.292.4980 x 231.